02/08/2018
Co zažít v létě v New York City
New York City je zajímavé a živé město za každého počasí. Když ale dorazí léto a začne svítit slunce, čerstvý letní vzduch přináší úplně jiný rozměr. Otevírá se plno možností, jak NYC pořádně poznat. V letních dnech doporučujeme navštívit hudební festivaly a letní kina umístěná na střechách mrakodrapů. Nezapomeňte si také projít newyorské ulice a park Gotham, ve kterém často vystupují pouliční tanečníci. Všechny tyto aktivity vytváří pozoruhodné letní chvíle.
Podívejte se na seznam věcí, které byste rozhodně neměli v létě v NYC minout a připravte se na to, že si budete muset kvůli tomu prodloužit vaši dovolenou!
Pošlete online žádost a získejte povolení ESTA na váš e-mail.
1. Zatancujte si v muzeu moderního umění
Muzeum moderního umění na Long Island hostí letos opět každoroční festival. Jedná se o tradiční událost, na které potkáte plno zajímavých lidí, shlédnete současné výstavy umění a zároveň si zatančíte v "měsíčním světle". Rozpohybujte se působivou a dobře vybranou hudbou od známých hudebníků jako je Afrika Bambaataa, Questlove, Francois K, Danny Krivit, the Scissor Sisters a LCD Soundsystem. Letošní hudebníci a DJs budou brzy oznámeni. Takže se ujistěte, že na sobotní odpoledne máte dostatek volna!
Tato týdenní letní párty, která se koná už téměř dvě desetiletí na nádvoří muzea na Long Island, si stále drží svoji vysokou kvalitu a charakteristickou atmosféru. Avšak nyní se jedná o ještě větší akci než kdykoliv předtím. Loni se této akce zúčastnili producentka Elysia Crampton a raper Kamaiyah. Kromě toho bylo k vidění také vzrušující outdoorové umění. Těšíte se taky na letošní ročník?
2. Zúčastněte se průvodu na ostrově Coney Island
Tento každoroční průvod na Surf Avenue je jednou z charakteristických letních událostí v New Yorku. Průvod se pyšní svou jedinečností a poněkud zvláštní atmosférou. Není divu, když se průvodu účastní lidé převlečeni za různá stvoření (král Neptun, mořská víla…). Tato událost přitahuje tisíce diváků z celého světa, kteří se přijeli podívat na tento neobvyklý průvod. Historie průvodu sahá až do roku 1983, kdy zakladatel ostrova Coney Island, Dick Zigan, přišel s nápadem a představil ho v té oblasti.
V roce 2018 se průvod konal v sobotu 16. června od 19 hodin. Průvod začal na křižovatce mezi Surf Avenue a W 21st ulicí. Poté pokračoval podél Surf Avenue a Boardwalk až k Steeplechase Plaza. Pokud se na tento průvod chystáte, doporučujeme přijít včas, abyste si vybrali místo, odkud dobře uvidíte. Pokud chcete mít místo jisté, staňte se členem Coney Island (za 150 dolarů). Potom se můžete v klidu  posadit u jednoho stánku s rozhodčím. Ať se pojedete podívat na průvod, nebo ne, nezapomeňte si užít jednu z nejhezčích pláží v NYC.
3. Běžte na večírek s mořskými tvory
Každoročně jsou ulice ostrova Coney Island zaplněny výstředními nadšenci, kteří jsou napůl oblečeni do třpytivých kostýmů různých mořských stvoření. Letošní ikonický průvod v New Yorku bude vést hudebnice Amanda Palmerová a Neil Gaiman – nebo spíše mořská víla a král Neptun.
Můžete požádat o ESTA online? Pročtěte si nejčastější otázky ohledně ESTA víza.
4. Navštivte pouliční stánky s občerstvením
To, co je na NYC v létě to nejlákavější, je ta bezstarostná atmosféra, která obklopuje newyorské ulice. Jakmile se začne oteplovat, začínají se v ulicích New York City objevovat různé pouličních stánky. Doporučujeme si tyto ulice projít a prozkoumat některé z nejlepších restaurací v NYC. Nezapomeňte se jít podívat (a možná i něco nakoupit) do rozmanitých tradičních obchodů s oblečením. Případně se můžete zúčastnit některých bezplatných venkovních aktivit – jako jsou venkovní koncerty a výstava pouličních umění. Užijte si také některý z náhodných, ale zábavných newyorských večírků.

 ©, Pixaby, Robert_z_Ziemi, 2016
5. Zchlaďte se ve venkovním bazénu
Každý, kdo žil v NYC obklopen mrakodrapy, určitě zná ten naléhavý pocit se někde během dne zchladit. Naštěstí jsou letos otevřeny venkovní bazény už od konce června, a tak se můžete bez váhání jít zchladit. V NYC se nachází přes 60 veřejných bazénu, takže si můžete být jisti, že určitě na jeden z nich narazíte a budete si moci užít trochu klidu. Mezi nejčistší (a zcela zdarma) bazény patří v NYC bazén Astoria se svým zajímavým interiérem Art Deco a také plovoucí bazén v Bronxu se sedmi plaveckými drahami.
6. Vraťte se do 20. let s jazzovou hudbou
Tato slavná jazzová akce, která se koná na proslulém ostrově Governors Island, je zajímavým a zábavným způsobem, jak pochytit minulost NYC a současně si užívat vybrané koktejly a živou hudbu. Poté, co si dostatečně užijete newyorské pláže a bary, přejeďte trajektem na tento ostrov a ponořte se do 20. let, které vám umožní si odnést z NYC nezapomenutelný zážitek. Tato jazzová akce se koná dvakrát za léto, jednou v polovině června (letos od 16. – 17. června) a podruhé ke konci srpna (24. – 25. srpna) a pokaždé od 11:00 do 17:00. Tento rok dorazí na festival Michael Arenella a jeho Dreamland orchestr a také populární taneční soutěž Charleston, které se můžete přímo účastnit, nebo se jenom dívat a bavit se.
7. Zajděte si na film do letního kina
Pokud jste milovníci filmů, nezapomeňte zajít do venkovního kina, které se nachází na střeše jednoho z newyorských domů. Pokud máte rádi koktejly, nebo západ slunce (či oboje), mělo by se toto místo umístit na prvních pozicích v seznamu toho, chcete dělat v NYC. Toto kino se pyšní nejen pohodlnými židlemi, bezdrátovými sluchátky, skvělým výběrem filmů (od alternativních filmů přes tradiční až k oskarovým filmům), ale také samozřejmě skvělým popcornem. Letošní zahajovací párty se uskuteční na SkyLawn v hotelu Embassy Suites by Hilton, v centru města a odstartuje další edici filmové projekce, která bude obsahovat bezedný popcorn za tři dolary.
8. Vyřáděte se v lunaparku
Nic nemůže zlepšit začátek léta tak skvěle jako znovuotevření ikonického zábavního parku Luna Park Coney Island, který je považován za jeden z nejzajímavějších na světě. I když se jedná o nový zábavní park, získal mezi lidmi ihned oblibu a to hlavně díky své poloze na pobřeží a díky velkému počtu atrakcí (více  než 50). Nezapomeňte na horskou dráhu, obří kolo a mnoho dalších atrakcí, které byste rozhodně neměli minout.
Lunapark je vhodný pro všechny věkové kategorie a to díky rozmanité nabídce dalších aktivit jako jsou karnevalové hry, tematické jízdy, stříkající vodní skluzavky, večírky, koncerty a živé vystoupení. V lunaparku se také kromě atrakcí nachází mnoho restaurací a kaváren. Nezapomeňte zajít na populární hamburger do kavárny Cyclone. Vstupné do lunaparku vám umožní si užít až 28 atrakcí. Pokud ale máte pocit, že potřebujete více adrenalinu, vyzkoušejte speciální atrakce za příplatek – stojí to za to!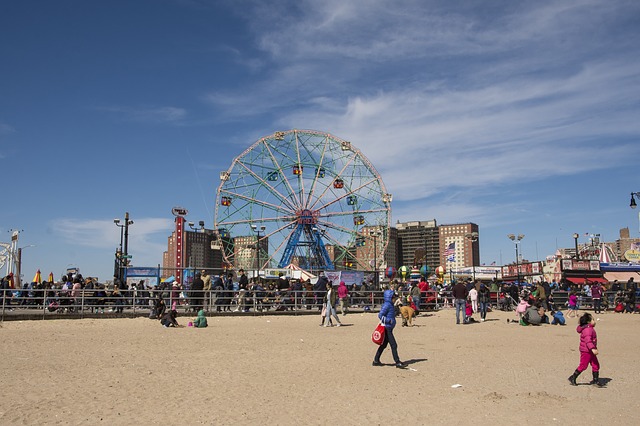 ©Pixaby, BruceEmmerling, 2016