06/12/2016
Nejznámější ulice (část 2)
Pokračování článku "Nejznámější ulice část první"
Lombard Street
Dodržujte rychlost 8 km za hodinu! Tak vás vítá Lombard Street na vrcholu kopce, protože před vámi se objeví betonový had, cesta, která je na necelých 400 metrech zahnutá až osmkrát. Tato jednosměrná ulice se vlní v nádherném městě San Francisco. Kdyby však byla jen točitá, ale ona navíc leží v prudkém kopci, přesně v takovém, jaké jsou pro toto nádherné město typické. Řídit auto v San Francisku je náročné i mimo Lombard Street, a proto zde určitě platí pořekadlo "Dva krát měř a jednou řež", přesněji řečeno "Dvakrát se rozmysli, než zatočíš volantem". Může na to doplatit nejen auto, ale i vy. Nejklikatější cesta světa byla postavena v roce 1922, aby chodci, ale i řidiči bezpečně, sešli Ruský kopec (Russian Hill) s 27% převýšením.
Hollywood Boulevard
Hollywood je místo, kde můžete vidět hvězdy i během dne a dokonce po nich i kráčet. Hollywoodský boulevard nebo "Walk of Fame" je celosvětově známý nejen díky filmovému průmyslu, ale i díky hvězdám, které jsou doslova rozsypané na chodníku, nachází se jich zde přes 2500. Každá hvězda patří významné osobnosti, ať už herci, režisérovi, producentovi apod. Některým stačí se po chodníku projít, ale obvykle zde můžete vidět mnoho lidí s pohledem upřeně zabořeným do země, jak dychtivě hledají hvězdu své oblíbené celebrity. Nevíte si rady? Stačí se zeptat místních, ti vám velmi rádi pomohou, protože chodník znají velmi dobře. Pokud vám nestačí hvězdy, u divadla TCL Chinese Theatre najdete otisky nohou a rukou a dokonce i podpisy těch nejslavnějších osobností filmového průmyslu. V divadle se pořádají také filmové premiéry.
Rodeo Drive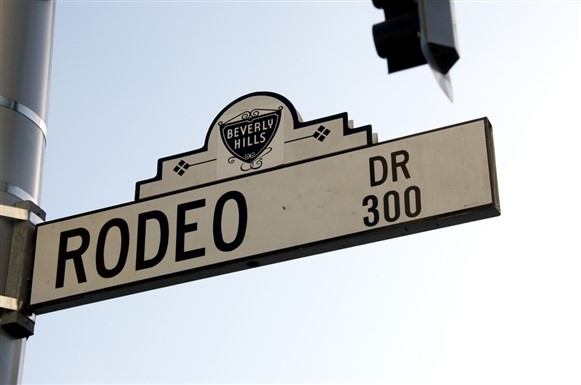 Rodeo Drive v Los Angeles je místo, kde určitě nebudete mít problém utratit peníze. Zatímco Beverly Hills je místo, kde boháči žijí, na Rodeo Drive pak tito boháči jezdí nakupovat. Pokud máte aspoň 2 000 dolarů navíc a nevíte co s nimi, vydejte se na nákupy do této, rozlohou sice malé, zato bohaté ulice. Stačí vám pár minut a za jeden či dva kusy oblečení jste o několik tisíců chudší. Najdete zde přes 100 butiků a hotelů a mezi nimi i významné značky jako Prada, Louis Vuitton, Burberry, Chanel atd. Zde si milovníci módy a luxusu opravdu přijdou na své.
Las Vegas Boulevard
Co by to bylo za Vegas bez známého "Stripu"". Z centra až na okraj města se táhne široká a dlouhá ulice, které se mezi místními říká zkrátka "The Strip". Start imaginární trasy po této nekonečné ulici můžete najít u věže Stratosphere a do cíle přijedete, když se dostane k hotelu Luxor v lasvegaském Egyptě. Tyto dva body ohraničují boulevard, který je obklopen z obou stran obrovskými nákupními centry a hotely s kasiny. V případě, že vám kasina a nákupy neučarovaly, můžete se nechat unášet místní atmosférou, prohlédnout si různé atrakce jako např. tancující fontánu či vybuchující sopku. Přejít přes silnici po přechodu pro chodce je zde prostě nemožné, neustále se zde míhají osobní auta, limuzíny, taxíky. Ale díky eskalátoru a nadchodu se můžete přesunout z levé strany na pravou a kráčet tak vedle rušné ulice.
Bez ulic by byla i ta nejznámější města bez života. Ulice jsou tepnami měst a vdechují jim život. Chodci po nich mohou chodit, auta jezdit. Ulice jsou zkrátka to, co udává směr vývoje a charakter města, určují jeho strukturu, a proto se i cesta může stát vaším cílem. Nechejte se unést jednou z mnoha amerických cest, vydejte se do neznáma, rovnou za nosem až tam, kam vás dovede. Cestování do USA není jen o odškrtávaní významných památek se seznamu. Je to jiný, obrovský svět, který je třeba poznat. Zajistěte si své vízum ESTA a pořádně si užijte cestování po Americkém kontinentu.